Parks

Garden colonies

Saunas

Sports

Internet




Also known as "Schrebergärten," urban Berlin is filled with these semi-public areas upon which small cottages are built, trees abound, gardens grow, songs are sung, dances are danced, and a great civilization of garden gnomes (Gartenzwerge) flourishes.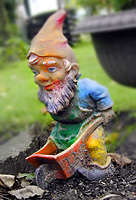 The history of Small Garden Colonists, or "Bush Pipers" as they are sometimes affectionately called, stretches back into the last century in Berlin and other parts of Germany. Having survived economic depressions, wars (total and cold) and most recently the expanding capital city itself, Berlin's small garden colonies are a phenomenon which non-natives and most Berliners themselves seldom, if ever, experience.

These miniature scale "colonies" consist of small fenced-in plots, the rights to which are usually passed down through generations of the families using them. They are particularly active in the Summer when many of their older dwellers abandon their city high-rises and inhabit the small cottages built upon these garden plots. Everything in this world is small in stature, none the least of which are the often elaborate garden decorations themselves. In visiting Berlin's garden colonies one experiences the surreal in the everyday and comes to better appreciate the odd place of many Berlin natives in the scheme of the greater romantic German psyche.

All colonies are open for the public to walk around, browse the shrubbery, inspect the growth of flowers and veggies, and to be grinned at by swarms of gnomes, many busy at work with spade, shovel and wheelbarrow. Compliments on the arrangement and good upkeep of the different gardens will always win favor with the landed gentry of these magical kingdoms. So skip overpriced Switzerland, the pomp of Bavaria, the heat of sub-Saharan Africa and head off to a smaller, but no less romantic and offbeat version of colonialism.

A list of the more than 100 garden colonies in Berlin can be found in the yellow index in the back of a "Falk" city map under "Kleingartenkolonien in Berlin". If you do not have a "Falk" map to find a colony in your area, maybe visit one of the Berlinfo garden colony picks listed below.



Samoa


Priesterweg , 12157 Berlin - Steglitz | S-Bahn Priesterweg |


map:


The "Samoa" garden is just one among a whole complex of a dozen other colonies including "Rabbit Farm" and "Reunited."


Wiesengrund + Sandkrug II
Bornholmer Straße 40, 13359 Berlin - Wedding | S-Bahn Bornholmer Straße |

map:



top of page

© 1999-2011 Berlin Information Group

anything missing or wrong?