Classical music

Exhibitions

Film

Theater

Opera

Annual Events




For more goings on, see the A&C Shows & Exhibitions and What's On Exhibitions pages.



Berliner 6 Tage Rennen (24th-29th Jan, 2002)


www.sechstagerennen-berlin.de

S-Bhf Landsberger Allee , 10407 Berlin - Prenzlauer Berg | Tel: (tickets) 44 30 44 30, Fax: 44 30 44 39 | S-Bahn Landsberger Allee, Bus 156,257 Landsberger Allee/Petersburger Str., Tram 5,6,8,15,20,27,N55,N92,N93, Nightbus N29 | Venue: Velodrom, Europa-Sport-Park-Berlin | Times: Thurs, Mon 6pm-1am, Fri, Sat 6pm-3pm, Sun 11am-5pm, Tues 6pm-midnight | Prices: DM50-90 (25,26-46,02 Euros) | Alternative website: www.velodrom.de

map: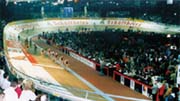 Attracting some of the best speed cyclists in the world, the Berlin 6 Day Race is one of the highlights in the Berlin year. A fixture in the sporting calendar since 1909, this six day spectacle of pedal power annually attracts around 70,000 people. A concept which started in 19th century Britain, the six day race didn't take off until the idea had been developed in America. Berlin's version was not only the first in Europe but has become the most successful in the world. On each of the six days the Velodrom plays host to a different event, which starts at around 6pm and goes on until the early hours (except family Sunday when the programme runs from 11am to 5pm).



The Chinese State Circus presents: Yin Yang - the best of 2000 years of circus art (27th Nov, 2001 - 27th Jan, 2002)
www.berliner-festplatz.de/english/
Kurt-Schumacher-Damm 207, 13405 Berlin - Wedding | Tel: 23 62 72 21, Fax: 23 62 72 22 | U7 Jakob-Kaiser-Platz, Bus X21, 121, 225, U6 Kurt-Schumacher-Platz, Bus X21, 121,128, 225 | Venue: Zentraler Festplatz Berlin | Times: Tues-Fri 8pm; Sat 3pm, 8pm; Sun 2pm, 6pm; Dec 25th-31st daily at 3pm & 8pm | Price: DM29-89, children up to 3 free | Alt. website: www.rw-entertainment.de/yinyang/frame.htm
map:


No longer totally fulfilled with their usual breakneck stunts and precarious balancing acts, the Chinese State Circus have decided to add a bit of Yin to their Yang for the 2001/02 tour. Still containing a host of award winning routines the programme contains a more theatrically choreographed touch which better displays the equal and opposing forces of the cosmos. Flying women, juggling antics and ballerinas pirouetting on their dance partners shoulders all feature.


Choreographed Theatre by Johann Kresnik
map:


Running at the Volksbühne in January and February is a series of dance pieces exploring the plights of some of the world's most recognised artists. Choreographed by the German contemporary dance guru Johann Kresnik, each study provides the audience with a visually impressive display along with a socio-political angle. Kicking off with Kresnik's newest work about the manic world of Pablo Picasso, the series continues with performances of Goya - The Sleep of Reason Produces Monsters, a breathtaking portrayal of the 18th century artist's often traumatic existence in the times of a tyrannical church and state. The third piece, considered one of the most impressive dance works to grace a stage, charts the life and times of the Mexican painter Frieda Kahlo.


The euro - a single currency for Europe (until March 31st, 2002)
www.bundesdruckerei.de/en/current_topic/a3_euro_e.html
Kommandantenstrasse 15, 10958 Berlin - Mitte | Tel: 25 98 - 28 03 (guided tours), Fax: no fax | Bus 129 or 240 to "Waldeckpark" or take the underground U8 line to "Moritzplatz", U6 line to "Kochstrasse" or U2 line to "Spittelmarkt" (5 minutes walk) | Venue: Exhibition foyer at the Bundesdruckerei | Times: daily 10am-8pm | Entry: free
map: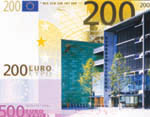 Spare a thought for the shopkeepers this New Year. It's confusing enough when a resolutely exuberant, alcohol-fuelled population hit the streets armed to the teeth with bangers and fireworks. But what happens when the cash machines start spitting out a different currency? Luckily enough, the relevant people have already taken this into consideration. At the Bundesdruckerei until March 31st you can learn about Europe's new currency through the exhibition entitled "The euro - the single currency for Europe". As well as answering all your questions, from usage to security features, the infobition is also proud to present original banknotes and coins from all the European countries involved. The production process will even be related through short videos. If you want to make a Day Out of it, guided tours for groups are available for DM20 (or should that be 10.23 Euros?).


transmediale.02 [go public!] (Feb 5th-10th, 2002)
www.transmediale.de
info@transmediale.de
John-Foster-Dulles-Allee 10, 10557 Berlin - Tiergarten | Tel: 397870, Fax: 394 8679 | S+U Alexanderplatz, U2 Klosterstrasse | Main venue: Haus der Kulturen der Welt | Festival hours: Feb 5th 19:00 (opening), Feb 6th-10th 10am-midnight | Exhibition hours: Feb 5th 19:00 (opening), Feb 6th-10th 10am-8pm, Feb 11th-24th 11am-6pm | Prices vary, exhibition - 5/3 Euro, festival pass - 100/75 Euro, Media lounge & salon - free | Ticket reservations: 39787175
map:


The digital revolution - does anyone know exactly what it's given us? Easier access to information? ...Granted, but do we really want to know what Darren Matchett has been up to since he left school? Better communication? ...In a sense, but the pubs weren't any emptier before Generation Mobile. More freedom? ...Have you checked your e-mails recently? Someone might have left an important message for you.
But, while more and more of us find ourselves hanging on the every bleep, flash and (if you're lucky) oscillation of our new-found best friends, there's baddies out there. Thankfully thesedays, characteristics of every mobile phone call and e-mail can be recorded, stored and reproduced at a later date and, with third generation phones, a call can establish your when- and whereabouts to within a radius of 10 yards.
Anyway, about this international media art festival... one of the biggest in the world, it started out as a video arts festival and grew from there. This time round, the forums, workshops, video screenings, clubs and other things will be focusing on "the role of digital technologies in present-day society" and "artistic and critical reflection" thereon. Artistic reflection? The mind boggles. Well, something like that.
The transmediale website will provide you with the exact times, co-ordinates and intentions of the events.


Berlinale - Berlin International Film Festival
(6 - 17 Feb 2002)
www.berlinale.de
The Berlinale takes place every February, with screenings held in various cinemas located citywide. All details are widely advertised in the press and by the festival organisers in the weeks prior to the event.
map:


Berlin's biggest annual event before anybody had heard of the Love Parade, the Berlinale is the third largest film festival in Europe. Although aimed mostly at industry professionals, that doesn't stop the whole city going film-mad for two weeks in February. Nothing in Berlin is complete without controversy, and the Berlinale is no exception. Contentious points for the 2001 Berlinale included the big name no-shows (namely Gus Van Sant, Julianne Moore, Pierce Brosnan, Emma Thompson and Johnny Depp), and the usual gripes at Festival head Moritz de Handeln´s program of safely commercial films that served in many cases as a convenient forum for films being released soon or concurrently in German cinemas. And no Berlinale is complete without the critics´ cries of too few German films - this year´s only competition entry, by a Greek-German director and about a German-American marriage, could not even claim full citizenship. So maybe it is a little too Hollywood and then Hollywood doesn't even show up. But many Berliners see that as all the more fun for the locals. With bigger theatres, more tickets, less glitz and fewer scenesters than Sundance or Cannes, the Berlinale is truly a festival for all of Berlin - that is, for anyone with enough patience to endure the ticket queues.

The top award, the Golden Bear, went to Patrice Chéreau´s Intimacy, a film that puzzled American critics for its graphic depiction of sex without glamour but was widely acclaimed by most European critics for, ironically enough, the very same reason. The lead actress, Kerry Fox, won the Silver Berlin Bear for the Best Actress and Benicio del Toro took the Best Actor award for his role in Oscar-favored Traffic by Steven Soderbergh. In addition to a wildly popular Fritz Lang tribute and an homage to Kirk Douglas, other surprise hits were the batch of Berlin films (Berlin is in Germany, Berlin Babylon, The Legend of Potsdamer Platz, The Beautiful Day) and the selection chosen by de Handeln, whose contract as festival was terminated early in a stunning and highly contentious move by the festival´s board of directors. Many hope that a new director means a more daring program for 2002, but others fear that a less commercial festival will be a less profitable one and that less Hollywood means less visibility. See the berlinale website for more details.




top of page

© 1999-2011 Berlin Information Group

anything missing or wrong?