Auction Houses

Artists´ Supplies

Bookstores

Computers

Fashion

Flea markets

Music

Food

Asian

British

Continental

Jewish

Middle Eastern

Bakeries

Markets

Specialty

Supermarkets

2nd Hand




As Germans prefer to buy quality products in specialist shops, forays into the supermarket are reserved for everything else. There are generally two kinds of supermarkets in Berlin, but the lion´s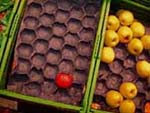 share is taken up by the 'stack'em high, sell 'em cheap´ type of store such as Aldi, Netto and Plus. Firstly, be aware that most shopping trolleys can only be taken round the store with a deposit of a mark - so have that handy coin at the ready. Shopping baskets for smaller quantities are rarely provided. Secondly, no matter how much money you spend in the store, you will always have to pay for carrier bags advertising your custom there. Recycling shopping bags is an environmental virtue, although this only seems to apply in supermarkets - purchases in other stores are unquestionably handed over in the requisite plastic bag. The aisles are not meant for leisurely perusal of a wide range of wares, nor ease of trolley navigation. The goods on offer are generally of a cheap though not always low-quality standard. You may have to fish the soap powder out of a cardboard box, or climb onto a pile of boxes to reach the olive oil. This is deemed quite normal, and sales staff are not expected to be helpful. A lack of signposting to indicate the location of products is also characteristic of these 'downmarkets´

Handling of the checkout process also requires an element of caution and patience. Do not despair at the long queues - you have chosen cheaper wares - the price does not include service! Arguments between the checkout person and customer over pricing systems are normal - they memorise the codes of all the goods, which don´t have price labels. Expecting your goods to be neatly packed for you would probably raise a smile of disdain even in the posher food departments. Instead, be prepared for the perils of the conveyor belt which ends abruptly. At this juncture, it is common practise to load all of the items you have already unloaded back into the trolley again. You pay, then go and find a quiet corner to pack everything into your own bags - capacity of which must be judged before the packing process begins - pushing the queue to go back and purchase an extra carrier bag is generally bad form.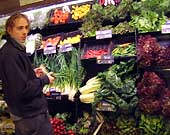 The shopping experience is made somewhat more pleasurable in more upmarket stores such as Reichelt, Meyer, Ullrich and Kaiser´s. The quality is nicer, the floors usually swept, a sense of order and logic pervades the shelving, you can buy yummy wares as well as dull staples. It is a bit pricier, but worth it for the feel-good factor. Beware with fresh fruit and vegetables - you have to weigh them yourself and face the possible eye-rolling of the checkout staff lest you forget.

For real treats, including a selection of items 'from home´ unavailable elsewhere, try the food departments in KaDeWe or Galeries Lafayette. Devilishly expensive, you will undoubtedly be attracted by various counters offering fresh oysters and champagne, caviar, sushi, pastries, sausages and all sorts of naughty delights. In this sense, these stores make a great afternoon out for a mini gourmet festival.

Cheap and nasty supermarkets:
Aldi

The website will point out your local store and keep you up to date with the week's most irresistable bargains. The consumer association, Stiftung Warentest, rates their orange juice and olive oil as 'good'.


Lidl

Similar to Aldi, the virtues of this website are the sexy colour pictures of bottom-shelf wares. Their big advantage, however, is the new store opened at Ostbahnhof , which is opened from 8:00-21:00, EVERY DAY!!! At last, the great unorganised no longer have to starve on Sundays!!!


Pennymarkt

The Rewe chain owns the Pennymarket, Minimal and Rewe stores scattered across Berlin. The site is a colour supplement of the week's special offers.
Cheap approaching cheerful:
Edeka

The bright blue and yellow corporate colours add a touch of subtlety to this franchise, up there with the best quantity-for-money street corner stores.


Superspar

Some parts of this site are in English too, although not Einkauf 24 - the online shopping service. One of the few Berlin supermarkets which offer this service, a minimum purchase of € 40 plus a € 5 fee can save you a lot of hassle - especially on Saturday mornings.


Plus

Not much other than product portraits happening on the website - but you can locate your nearest branch of delights.
Nice:
Reichelt

One of the better-bred supermarkets, it not only opens at 7am every day but also offers very easily navigable online shopping for a fee of € 10, with a minimum of € 30 worth of goods.


Kaiser's

Another of the friendlier crop of stores, offering online shopping with a charge of € 10 for a minimum of € 30 worth of goods. A great bonus on the (disappointingly unillustrated) shopping list is the party service - platters of various food types with a range of sizes which take a lot of the work out of entertaining.


Ullrich at Zoo station.
One of the largest supermarkets in central Berlin, with a decent selection of all wares - especially cereals! Chilled beers from the fridge are a favourite for that on-the-street drinking experience, which goes on 24-7 right outside the shop, but needn't put you off.
Very nice food departments:
Galeria Kaufhof

A pleasant wander around the ground floor of this department store should satisfy most of your culinary desires. Online shopping is also an option, and same-day delivery is free over € 200 - otherwise a € 10 charge for a minimum basket of goods of DM30.


Karstadt


www.karstadt.de

Wilmersdorferstr 118 | Tel: 31 10 50, Fax: 33 09 23 00

(Wertheim) Kurfürstendamm 231, 10719 Berlin - Charlottenburg | Tel: 88 00 30, Fax: 88 00 33 00

Schloßstr 11-15, 12163 Berlin - Steglitz | Tel: 79 00 40, Fax 79 00 43 00


Unfortunately no online grocery shopping, although some parts of the site are in English. Not as posh as Ka De We, though would like to be, yet a trusty range of 'foreign foods' is available in both of these department stores.
Gorgeous food halls:
Kaufhaus Des Westens


www.kadewe.deinfo@kadewe.de

Tauentzienstr. 21-24 10789 Berlin - Charlottenburg | Tel: 212 10, Fax: 21 21 26 20 | Times: Mon-Fri 09.30-20.00, Sa 09.00-16.00.


This is not where you go for that pound of flour you forgot. Ka De We is a glittering, mouth-watering shopping sensation, which you can simulate online but only with the most luxurious wares imaginable. Tempted? Free delivery upwards of € 500. Spending less would not fit into more than one prestigious carrier bag anyway.


Galeries Lafayette


www.lafayette-berlin.de

Französische Str. 23, 10117 Berlin - Mitte | Tel: 20 94 80, Fax: 20 94 81 02 | Times: Mon-Fri 9.30-19.00, Sat 09.00-16.00.


Thumbs up for the lushest foodstore website, where the smells of fresh baguettes and goats' cheese fairly waft from the screen. Yet only wine will be delivered - for free from orders of € 300 or a fee of € 15. The online selection is magnificent. Food should be sampled on site - worth a visit just for the artistic displays and quaint sub-départements.


top of page

© 1999-2011 Berlin Information Group

anything missing or wrong?