Education

Schooling

Higher Education

Institutions

Enrollment

Student Visas

Language Tests

Pre-schools

Language Schools




In rankings of German universities, Berlin´s are usually rated as mediocre at best (with the exception of the traditional Humboldt University's language and humanities departments, which still have respectable reputations).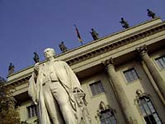 Nevertheless, Berlin is a magnet for students and scholars. It must be the promise of the metropolis as campus and the city's history of student movement (the Free University campus was the birth place of German student activism, and student protest activity there was as vehement in 1967/68 as in Berkeley in 1965).

Due to the fusion of the Eastern and Western city halves, Berlin has the luxury of three universities, two polytechnical colleges, two art schools and various smaller colleges, not counting the institutions in Potsdam. A certain division of labor has developed, most notably with the two art schools, Weissensee offering the solid theoretical and practical grounding especially in applied arts, while the HdK is the breeding ground of future gallerists' darlings. However elsewhere consolidation has already begun and will continue in the wake of Berlin's budgetary restraints.





top of page

© 1999-2011 Berlin Information Group

anything missing or wrong?