Short-term


Luxury


Expensive


Moderate


Budget


Backpacker


Youth Hostels


Camping


Agencies


Long-term


Browse our reviews and choose a hotel which suits your needs. Having trouble finding the right hotel? - Contact Nethotel´s "Scout Service" and a local expert will locate the room you are looking for.



Youth Hostel Berlin International (Jugendherberge Berlin International)

http://www.jugendherberge.de/international/html/index.jsp
yh-berlin@youth-hostel.de
Kluckstraße 3, 10785 Berlin - Schöneberg | Tel: 261 10 97/8, Fax: 25 79 98 08 | U1, U15 Kurfürstenstraße., Bus 341 | Price: DM36 under-26s; DM44 over-26s; breakfast incl.
map: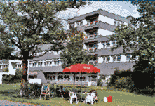 With 358 beds, this centrally located hostel can boast a wide range of amenities including day-rooms, free luggage storage facilities, a laundry room, a snack-bar, a cafeteria and its own garden. Dormitories have three to five beds, and single and double rooms are also available for group leaders. Although easily accessible by public transport, cars and coaches can park for free. Night owls will be glad to know that it's open 24 hours. Bookings can be made over phone or online (just click the "Book it " button).



Baxpax Berlin
www.baxpax.de
info@baxpax.de
Skalitzer Str. 104, 10997 Berlin - Kreuzberg | Tel: 69 51 83 22, Fax: 69 51 83 72 | U1 Görlitzer Bahnhof | Rooms (per bed per night): DM25-29 for bed in dormitory; DM31 for bed in 6-bed room; DM33 for 5-bed room; DM35 for 4-bed room; DM38 3-bed room; DM42 2-bed room; DM55 single, bed linen (one off payment) DM4; breakfast: 10% discount in nearby restaurant | Bike rental: DM10 1 day | Daily walking tour in English € 14
map:


The motto here is "cheap deep sleep" and there's no reason to doubt it. Baxpax offers around the clock reception, cooking facilities, a great location and with dorm beds starting at DM25 they are without doubt the bargain at the pauper's end of the accommodation market. Services include a fully equipped kitchen and internet access. With beer at 2.50DM during happy hour and a pool table in house, you may not find your way out to the bustling nightlife of the nearby Oranienstrasse.


Circus The Hostel
www.circus-berlin.de
circus@mind.de
Rosa Luxemburg Straße 39-41, 10118 Berlin - Mitte | Tel: 2839-1433, Fax: 2839-1484 | U2 Rosa Luxemburg Platz | Rooms: (per bed per night ) DM25 for 5+6-bed room; DM30 for 4-bed room; DM35 for 3-bed room; DM40 for 2-bed room; DM50 for 1-bed room; 4-bed apartment DM180, bedlinen (not optional) DM4; breakfast not included |
map:


The ideal stop for the weary backpacker. Extremely well-located and newly opened in 1998. Rooms are clean, luminous and affordable. The owners are themselves experienced travelers and know the importance of quality, service, and budget traveling. The hostel is open 24 hours and features single-sex rooms. The staff will even assist you organize the next leg of your journey - from organizing visas to buying tickets for cultural events and booking your next place of stay. They also provide tours to more obscure corners of Berlin such as the bunker system under Potsdamer Platz, guests go free. Extremely popular so be sure to book long in advance. But If they are full, they will likely suggest alternatives.


Mitte´s Backpacker Hostel
www.backpacker.de/english/home.htm
info@backpacker.de
Chausseestrasse 102, 10115 Berlin - Mitte | Tel: 283 909 65, Fax: 283 909 35 | U6 Zinnowitzer Straße | Rooms: (per bed per night ) DM25-29 for a dormitory bed; DM31 for a bed in a 6-bed room; € 33 for 5-bed room; DM35 for 4-bed room; DM38 for 3-bed room; DM42 for 2-bed dorm; DM55 single, bed-linen (one off payment) DM4; breakfast: 10% discount in nearby restaurant | Bike rental: DM10 1 day | Daily walking tour in English € 14
map:


Centrally located, Berlin-Mitte's oldest backpacker hostel (since 1994) is housed in an turn-of-the-century factory building. Rooms are all individually decorated by past guests. Staff are multilingual, friendly and helpful. Features include a video room with english language films, a fully equipped self-catering kitchen, bike rental, walking tours, no curfew or lockout, eMail services, free city map and information. The Happy Hour at the bar in the evening (when a half litre of beer is DM2.50 provides the perfect atmosphere in which to discuss your cultural differences with your fellow in-mates. A visa service for Eastern European countries, discount bus tickets and information on local events are also available.


The Odyssee Hostel

www.hostel-berlin.de
odyssee@hostel-berlin.de
Grünbergerstr. 23, 10243 Berlin - Friedrichshain | Tel: 29 00 00 81, Fax: 29 00 33 11 | S Warschauer Straße U5 Frankfurter Tor | Price: DM24 dorm bed, DM28 in 6 bed room, DM32 in 4 bed room, DM36 in double, no charge for linen. | Times: Open 24 hours, no curfew, no lockout.
map:


Located in fast-becoming-funky Friedrichshain, the Odyssee offers all those little extras to make your backpacking experience more comfortable - you can access the internet, have a drink in the bar, catch up on last year´s episodes of your favourite soaps in the TV room, hire yourself a bike to blend in with the locals, or challenge that guy who kept you awake snoring last night to a bout of billiards, table soccer or table tennis. And perhaps most importantly, there are two laudromats just across the street - go on, you know you should!



Pegasus Hostel
Berlin
www.pegasushostel.de
hostel@pegasushostel.de
Straße der Pariser Kommune 35, 10243 Berlin - Friedrichshain | Tel: 29 77 36 - 0, Fax: 29 77 36 - 10 | U5 Weberweise. | Price: (per bed per night ) DM25 dormitory, DM27 for 4-6 bed room; DM29 for 3-bed room; DM32 for double bed room , DM49 fsingle bed room, bedlinen (not optional) DM4; breakfast DM6 or self catering. | Times: no curfew or lockout.
map:


Plenty of history surrounds this hostel, located in a renovated Jewish girls´ school built at the beginning of the 1900s. Hire yourself a bike from the friendly staff and get out and see for yourself, or join one of the tours by bus, bike or skates (!). They also have an internet service, a ticket service, a shuttle service and parking.


Lette´m Sleep Hostel
www.backpackers.de
info@backpackers.de
Lettestraße 7, 10437 Berlin - Mitte | Tel: 44 73 36 23, Fax: 44 73 36 25 | U2 Eberswalder Straße. | Price: (per bed per night ) DM26 for 6-bed room; DM35 for 3-bed room; DM45 for double bed room plus cooking facilities, bedlinen (not optional) DM4; breakfast self catering.
map:


Great location, the friendly Australians who run this place will be happy to direct you to any of the clubs, cafe and bars in the area, as well as providing you with a free map and plenty of other information. Feel free to come and discuss your own personal favourite way of preparing spaghetti in the communal kitchen or use the internet service and get mum to mail you a recipe for something more adventurous. Disabled travellers are very well catered for here.


Die Fabrik
http://www.diefabrik.com/seiten/e/e_fr_entre.html
info@diefabrik.com
Schlesische Strasse 18, 10997 Berlin - Kreuzberg | Tel: 611 71 16 / 617 51 04, Fax: 618 29 74 | U1 Schlesisches Tor | Rooms: single € 66, double € 94, triple € 120, 4-bed-room € 144, suite "Die Fabrik" € 110, dormitory/bed € 30,- €; Mon-Fri breakfast "Die Fabrik" € 12, breakfast every day from € 6.50 | No credit cards.
map:


Situated in what was once the nation's home to squatters, the Turkish community, and a hotbed of left-wing, draft-dodging, artistic culture during the late 70s and 80s, has - since reunifcation - undergone wide-spread gentrification. The neighborhood has grown considerably quieter, without losing its cultural depth. This charm is reflected in Die Fabrik (The factory), one of Berlin's largest hotel-hostels, with 13 single rooms, 20 doubles (3 with sink), 10 triples, 4 quads, and 1 large communal bedroom with 16 beds. But size has not affected the quality of service and hospitality. Rooms are bright and spacious. Sheets, blankets, towels, lockers are included in the price. Staff is helpful and friendly and many speak good or excellent English. Features: shared telephone, 24-hour front desk, luggage service.


Hotel Transit

www.hotel-transit.de
welcome@hotel-transit.de
Hagelbergerstraße 53-54, Berlin - Kreuzberg | Tel: 789 04 70, Fax: 78 90 47 77 | U6, U7 Mehringdamm. | Price: dormitory bed DM33; single DM90; double DM105; three-bed room DM140; four-bed room DM180; five-bed room DM220; six-bed room DM260. | Cards: AmEx, EC, MC, V.
map:


The friendly English-speaking staff will welcome you to this converted factory in Kreuzberg, which is handy to the many restaurants and cafes in the area. No bookings are taken for dorm beds, so ring the night before to check availability. Services include a 24-hour bar, laundry service, T.V. in the lobby, internet access, safe.


The Clubhouse Hostel
www.clubhouse-berlin.de
mailto@clubhouse-berlin.de
Kalkscheunenstr. 2, 10117 Berlin - Mitte | Tel: 28 09 79 79, Fax: 28 09 79 77 | S Friedrichstraße | Price: DM50 single, DM40 double, DM35 triple, DM30 5-6 bed dorm, DM25 7-10 bed dorm, DM4 bedding on first night only. | Times: 24 hour service (no curfew or lockout).
map:


Situated in an old renovated house just a few minutes' walk from Friedrichstraße Station, The Clubhouse is handy for sightseeing, and also close to a large variety of clubs, pubs and bars. Then again, why would you bother going out, when you can sit and sip in the courtyard beer garden before staggering on to the downstairs nightclub? Other services provided by the friendly English-speaking staff include a welcome beer on arrival, internet access, complementary maps, concerts, disco and theatre discounts for guests, and a DM7 all-you-can-eat continental breakfast. Book at least one week in advance for weekends and in summer.



A&O Backpackers
map:


With 120 beds (and a plan to expand to 450) , A&O is a mighty big hostel. They provide 24 hour reception, a lounge, a beer garden and bicycle rental.


Jugendgästehaus am Zoo
Hardenbergstraße 9A, 10623 Berlin - Charlottenburg | Tel: 312 94 10, Fax: 401 52 83 | S3, S5, S6, S7, S9/U2, U9 Zoologischer Garten. | Price: from DM35 a night.

map:


Not an official YHA hostel, but not a bad place. Rooms are some singles and doubles, or four- to eight-bed dorms. There are no long-term reservations, but you can call them 1 to 2 days in advance, they're open 24 hours a day.




top of page

© 1999-2011 Berlin Information Group

anything missing or wrong?