Short-term

Luxury

Expensive

Moderate

Budget

Backpacker

Youth Hostels

Camping

Agencies

Long-term




There are three official youth hostels in Berlin, which tend to be booked out for most of the year despite being less than dirt cheap and off the beaten track. Some dormitories are only single-sex. There is a central reservations office for booking more than two weeks in advance, telephone 262 30 24. You must show your YHA membership card on arrival; if you are not already a member, you can join at the Mitgliederservice des DJH Berlin-Brandenburg (also known as the Jugend-Zentrale) listed below. Alternatively, on arrival at the hostel, you can pay a guest membership fee of € 6 per night. After six nights you will get a full membership card which will grant you access to 5000 youth hostels worldwide. If you want to pay all at once, it will cost you only € 30. You will need to take along your passport and a passport-sized photo.



Youth Hostel Berlin International (Jugendherberge Berlin International)

map: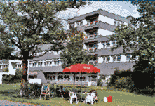 With 358 beds, this centrally located hostel can boast a wide range of amenities including day-rooms, free luggage storage facilities, a laundry room, a snack-bar, a cafeteria and its own garden. Dormitories have three to five beds, and single and double rooms are also available for group leaders. Although easily accessible by public transport, cars and coaches can park for free. Night owls will be glad to know that it's open 24 hours. Bookings can be made over phone or online (just click the "Book it " button).



Mitgliederservice der DJH Berlin-Brandenburg
www.djh.de
www.jugendherberge.de
Tempelhofer Ufer 32, 10963 Berlin - Kreuzberg | Tel: 264 95 20, Fax: 262 04 37 | U2, U7 Möckernbrucke.; U1,U15,U2 Gleisdreieck | Times: Mon, Wed, Fri 9:00-16:00; Tue, Thu 9:00-18:00
map:

Jugendgästehaus am Wannsee
Badeweg 1, 14129 Berlin - Zehlendorf | Tel: 803 20 34/5, Fax: no fax | S3 Nikolassee | Price: DM34 under-27s; DM42 over-27s; breakfast incl.

map:


Book as early as possible. Rooms all have four beds.


Jugendherberge Ernst Reuter
Hermsdorfer Damm 48-50, 13467 Berlin - Tegel | Tel: 404 16 10, Fax: no fax | U6 Alt-Tegel, then bus 125. | Price: DM28 under-27s; DM35 over-27s; breakfast incl.

map:



top of page

© 1999-2011 Berlin Information Group

anything missing or wrong?