Social Clubs

Religion

Christian

Buddhist

Islamic

Jewish

Synagogues

Restaurants

Shops

Gay & Lesbian




Berlin was once one of the great Jewish cities of the world. It was the foremost Jewish community in Europe, birthplace of the Reform and Conservative movements, and a magnet for Jews from all over the continent. That extraordinary and eminent city, of course, was forever obliterated by the Nazis. yet Jewish Berlin lives. In the last ten years, the small post-war community has experienced an explosion of growth and vitality. There is a new self-confidence and public visibility and a wealth of places, events, music and food to enjoy. These excerpts from the Goldapple Guide to Jewish Berlin hope to inform you about where and how you can pursue Jewish life in Germany's capital. For more information see The Goldapple Guide to Jewish Berlin by Andrew Roth and Michael Frajman. Available at bookshops for € 29,80 or contact goldapple@compuserve.com



Jewish Museum Berlin


www.jmberlin.deinfo@jmberlin.de

Lindenstrasse 9-14, 10969 Berlin - Kreuzberg | Tel: 25 99 33, Fax: no fax | U: Kochstrasse, U/S: Hallesches Tor | Times: daily 10-18 | Price: free. | In preparation for the museum´s first exhibit in September 2001, the guided tour program has been interrupted and only individual sections of the building remain open for visitors. A short film about the founding of the museum runs on permanent loop in the basement. From September 12th the new permanent exhibition will be open to the general public.

map: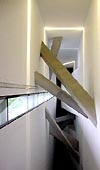 The Jewish Museum is one of the most striking pieces of architecture in modern Berlin, no small feat considering the city's recent building boom. The silver lightning bolt cutting through residential Kreuzberg is the result of an international competition which challenged architects to design a building that would house a permanent exhibition chronicling German-Jewish history. The winning design was by Daniel Libeskind, a Polish-born Jew whose important theoretical contributions to architecture had never been put to the practical test. His building is full of sloping walkways, black-walled voids and irregular windows designed to throw the visitor off balance. The architecture reflects the many creative contributions made by Jews to German culture and learning over the centuries when Berlin was home to one of the most vibrant Jewish communities in Europe. The void left by the holocaust is represented by a vast, empty, echoing tower, and the disorientation of immigration to a new land by the E. T. A. Hoffmann garden. See the museum website for more information and images.




top of page

© 1999-2011 Berlin Information Group

anything missing or wrong?