Restaurants by district

Quick Meals

Fine Dining

Exquisite Fare

Coffee & Dessert

Street Food

Breakfast & Brunch

Bars & Pubs

Charlottenburg

Friedrichshain

Kreuzberg

Mitte

Prenzlauer Berg

Schöneberg

Irish Pubs

Mary Jane Bar
Kastanienallee 24, 10435 Berlin - Prenzlauer Berg | Tel: 440 86 61, Fax: no fax | U2 Eberswalder Str. Tram: 13, 50, 52, 53, Busses: N42, N52 | Times: Mon-Fri 15.00-2.00, Sat-Sun 12.00-2.00

map:


The fluffy toys, cheap drinks and TV room for football are not the only landmarks of this Prenzelberger institution. However, when the football rolls the bar makes a special effort to satisfy the needs of its customers. Pfaelzer football fans are spoiled with home products like Pfaelzer Land wine and monsterous Rieslingschorlen (Riesling wine and mineral water). This rather narrow, kitschy and styled bar offers drinks at prices to suit most customers pockets.


Wohnzimmer
Lettestraße 6, 10437 Berlin - Prenzlauer Berg | Tel: 445 5458, Fax: no fax | U2 Eberswalder Straße | Open daily 10am -approx 4am | Prices: Beer - 4.50 €

map:


Chisel-jawed philosophers sitting on flood-damaged furniture acquired from the back door of an auction house. Even so, a rather pleasant little mood is created in this cafe/bar. Put together a couple of kitchen fitments, buy a coffee machine and Bob's your uncle. Sadly, you'll have to drink your beer from the bottle while you breathe in the air of tormented discontentment from Tarquin and his PhD buddies at the table over from you. As with most of Prenzlauer Berg, take a look sooner rather than later while the beer is still under 5 €.


Fünf Ziegen
Stargarder Str , 10437 Berlin - Prenzlauer Berg | S+U Schönhauser Allee | Cnr: Lynchnerstr. Times: 19:00 until the barman is tired

map:


If you can find it, this little makeshift bar is ideal for a glass of red wine and a game of chess. Once an illegal drinking den, this cosy little room is found behind a rather misleading white double glazed door with the name only stuck on to the window in small transfer letters. An eerily relaxed atmosphere is created as conversations here are never more than whispered. Following on from its previously illegal roots, beer is only from the bottle; but it´s cheap. Sink into one of the moth-eaten sofas in the candlelit environment and hide away from consumer society, thinking only pleasant thoughts.


An einem Sonntag im August
Kastanienallee 103, 10435 Berlin - Prenzlauer Berg | Tel: 4405 1228 , Fax: no fax | U2 Eberswalder Str, Tram 13, 50, 53, N 52. |

map:


Situated on the corner of Kastanienallee and Schönhauser Allee, this little café bar doesn't give itself the airs and graces of the newer hybrid of Prenzlauer Berg establishment. So saying, it lacks any real energy (unless you´re lucky enough to be present while one of the 'locals' gives a recital on his three string guitar), and you don't feel that it would be polite to indulge in a drinking session of any great proportion. Its biggest plus point is the (almost) all-day "all you can eat" breakfast which, although reasonably humble, will allow you to miss your next two scheduled meals for only 5 €.


Prater Beer Garden
Kastanienallee 7-9, 10435 Berlin - Prenzlauer Berg | Tel: 247 6772, Fax: no fax | U2 Eberswalder Str., Tram 13, 50, 53, N 52 | Times: 18:00 - feeding time 14:00 - on weekends

map:


The concept of the beer garden has been bastardised and consumerised to such an extent that before any trip to the toilet in this field sized watering hole it would be advisable to mark your table with a red flag in order to find your companions again. Queue for the expensive beer, queue for that lovely hot-dog to accompany your expensive beer, but surprisingly you don´t have to queue to leave. It appears here that the patrons like being treated like cattle and adore the impersonal touch. There´s always the bonus of anonymity.


Schwarz Sauer
Kastanienallee 13-14, 10435 Berlin - Prenzlauer Berg | U2 Eberswalder Str. Tram 13, 50 , 53 |

map:


Hang out with the hip kids after an exhausting session of shopping. This popular little café gives the youngsters a meeting point to compare the week's purchases over a cappucino and cake. Although not very big inside, the real attraction is the tables outside on the pavement as, at the right time of day, Kastanienallee catches the sun beautifully, giving the patrons their first opportunity to use their sunglasses properly.


Cafe November
Husemannstr 15, 10435 Berlin - Prenzlauer Berg | Tel: 442 84 25, Fax: no fax | U2 Eberswalder Str. | Times: daily 10am-2am.

map:


Tree-lined Husemannstr. is nice enough, and this light, airy cafe is a particularly good place to sit and watch the parade, read, or have a quiet conversation. Breakfast is served until well into the afternoon, as befits the clientele, and a small menu complements the selection of drinks.


Sonntags - Club
www.sonntagsclub.de
Greifenhagener Str 28, 10437 Berlin - Prenzlauer Berg | Tel: 449 75 90 , Fax: no fax | U2 + S8 Schönhauser Allee | Times: Mon - Sun 17:00 - 24:00
map:


Sonntags - Club is a bar and cafe as well as a meeting place for trans- bi-, and homosexual, groups. It´s something of a community centre so as well as being a comfortable place to go and have a coffee or a beer, Sonntag-Club offers resources for the gay community such as counseling and information. The club existed underground during GDR times when homosexuality was frowned upon. The feel of the club reflects this history and its atmosphere isn't yet completely westernised.


(The former) Café Schliemann
Schliemann Str. 21, 10437 Berlin - Prenzlauer Berg | S+U Schönhauser Allee. S-Bahn Prenzlauer Allee | Times: Daily until 6:00

map: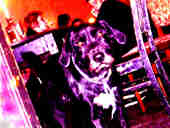 In this case "alternative" is not a word that can be stressed heavily enough: Lost souls; failed philosophers; men with dogs; dogs with men; men with beards and mullets; dogs with guitars and army jackets; women with mullets, dogs, guitars, army jackets and beards. Don´t wear a tie. These are the dying embers of a once renowned squatting phenomenon whose last few participants refuse to accept that a world of sushi and cocktails has replaced their once treasured freedom. At least this bar keeps them all in the one place.


Bar Luna
Schliemannstr. , 10437 Berlin - Prenzlauer Berg | U Schönhauser Allee, S Prenzlauer Allee |

map:


So Café Schliemann wasn´t your style? Why not go next door for an altogether more normal experience? Totally understated and not in anyway pretentious, this establishment is no bottle bar but allows you to sit in relative darkness to get down to the task in hand, away from the sterilised and polished atmospere of the other café bars. O.K., from time to time there is a guy with his dog in here but I'm sure he´s very friendly (the dog, I mean).


Eckstein
Pappelallee 73, 10437 Berlin - Prenzlauer Berg | Tel: 441 9960, Fax: no fax | U Eberswalder Str. , Tram 13 , N52 | Times: 9:00 - 2:00 daily

map:


Attractive looking establishment across the broad corner of an Altbau half way along the tree-lined Pappelallee. Clientele is mixed and not at all self-conscious. Especially nice on a summer's day when the full-length windows are opened on to the pavement where there are also a few tables and chairs. Take your friends or take your newspaper.


Anker


Greifhagener Str. 17, 10437 Berlin - Prenzlauer Berg | U Schönhauser Allee, Tram 50, 53 N52 | Open daily.


Across the corner of an Altbau, this inoffensive, little place offers, among other things, Irish Beer and German hospitality. It's not quite sure of its identity. Normal café bar protocol is adhered to most of the time but on weekends various forms of live music are performed - from country/blues to rock 'n' roll (if you get the picture). Summer heralds the arrival of the outdoor seating which makes the place a lot better.


Cafe Absinth


Dunckerstr. 24, 10437 Berlin - Prenzlauer Berg | Tel: 44 73 09 10, Fax: no fax | S-Bahn Prenzlauer Allee | Open morning till night.


This is an appealing café bar which, although not in the most attractive part of Prenzlauer Berg, is worth a visit. It attracts an unpretentious, if rather small, crowd who are occasionally treated to some live music or a film, which is projected onto the big screen at the back. Also serves quite good food.


Cafe Entweder/Oder
Oderberger Str. 15, 10435 Berlin - Prenzlauer Berg | U Eberswalder Str. Tram 13, 50, 53 , N52 | Times: Daily from 19:00.

map:


You've probably seen places like this before. Drinks, food, polished wooden tables, candles. So, as its name suggests, it doesn't really matter if you go in or not.


Club
Immanuelkirchstr. 31, 10405 Berlin - Prenzlauer Berg | Tel: 44 04 27 83, Fax: no fax | Tram 1. |

map:


It's no club but it's alright for a drink after a night in the Blow Up cinema across the street. With Table Football and a pool table through the back, it's actually quite good for a quiet evening out. Live music is on offer on most Sunday afternoons.




top of page

© 1999-2011 Berlin Information Group

anything missing or wrong?